North of Aitken Street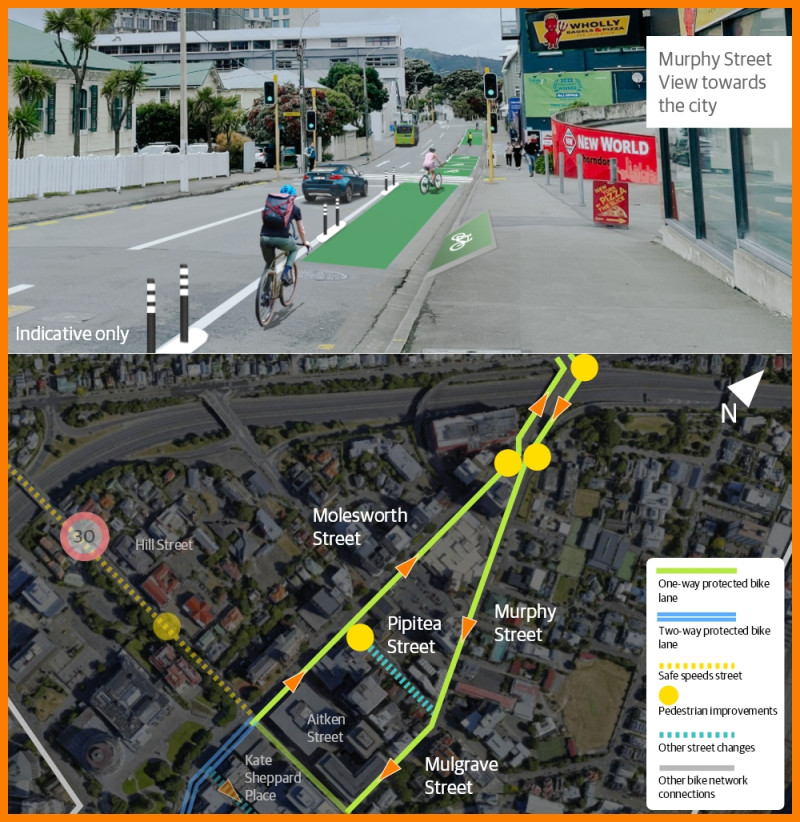 Changes in this area include improvements for people walking, biking, and taking the bus along upper Molesworth Street, Pipitea Street, Murphy Street and Mulgrave Street.
The improvements we are proposing include:
New raised bike crossing and raising the existing pedestrian crossing outside 186 Molesworth Street
Raising two further pedestrian crossings on Murphy Street
Reduced vehicle lanes on Molesworth Street mostly during construction of new apartments
New dual pedestrian and bike crossing across Murphy Street from Thorndon New World to Thorndon Pool to allow safer access including for students who wish to bike or walk to Thorndon School or Wellington Girls' College
No right turn for cars from Murphy Street into Pipitea Street to reduce conflict with the new bike lane on Murphy Street
Removing two bus stops along Molesworth Street to improve bus travel times

Bus stop 5112 Molesworth Street at the Cathedral
Bus stop 5114 Molesworth Street at SH1 motorway

New raised bus stop platform at bus stop 4114 Murphy Street before the SH1 motorway on-ramp
New uphill separated bike lane on the right side of Molesworth Street from Aitken Street, which crosses to the western side at the SH1 motorway overbridge to connect to Tinakori Road
New downhill separated bike lane on the right side of Murphy Street and Mulgrave Street.
The separated one-way bike lanes are proposed on the eastern side of Molesworth and western side of Murphy/Mulgrave to avoid conflicts with high volumes of traffic entering and exiting the motorway, as well as bus stops and construction loading zones.
Key parking changes
Two new car share spaces on Molesworth Street
Two new taxi stands on Molesworth Street
One new mobility car park outside NZ Rugby House on Pipitea Street
Three new diplomatic car parks on Pipitea Street
Reduced on-street parking and changes to parking restrictions in the area, with parking removed from Murphy Street and the right side of Mulgrave and Molesworth streets.
See parking changes for more detail.