Proposed changes for Tinakori Road and Hill Street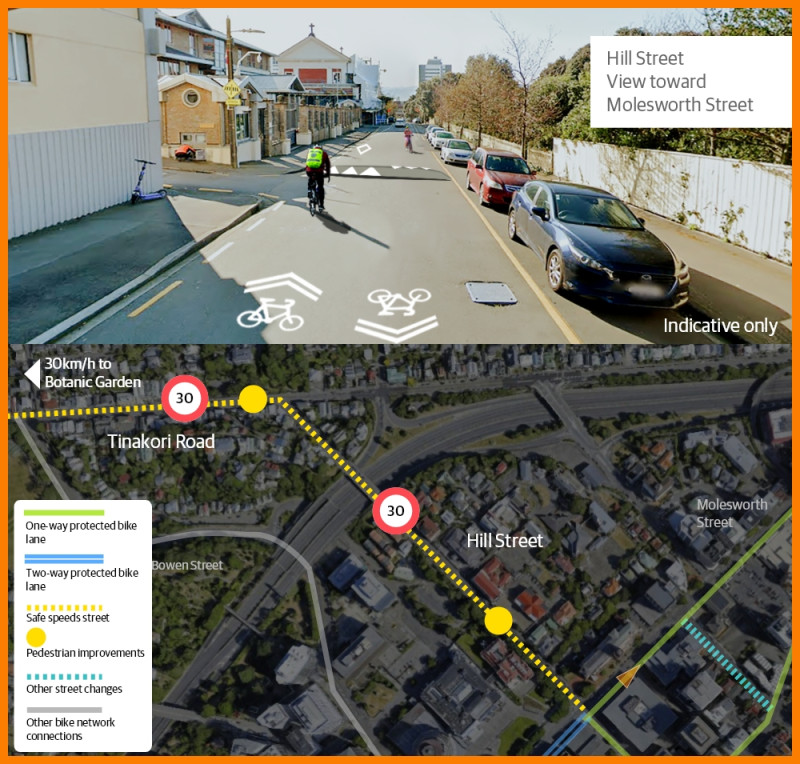 Changes in this area include improvements for people walking and biking on Tinakori Road and Hill Street.
The improvements we are proposing include:
Extend the 30km/h safer speed zone on Tinakori Road up to the Botanic Garden ki Paekākā entrance and down Hill Street
Four new speed humps on Hill Street
New raised pedestrian crossing on Tinakori Road near the Hill Street intersection
New raised pedestrian crossing on Hill Street near the schools
New parklet (bike parking, seats, planters) in Tinakori Village outside La Petit Chocolatier
New mobility car park in Tinakori Village
Sharrows on Hill Street and Tinakori Road
Parking changes
Tinakori Road
Replace two P60/P120 car parks outside 277 Tinakori Road with a community parklet
Install a new mobility park outside 320 Tinakori Road removing one P60/P120 parking space
Hill Street
Replace one resident car park with 5m of broken yellow lines (No Stopping) to improve visibility of kerb build outs for pedestrians
Change Hill Street bus stop to provide 6 P5 car parks for pick-up and drop-off between 8am-9am and 2pm-3pm, Monday to Friday during school terms. Bus stop at all other times.