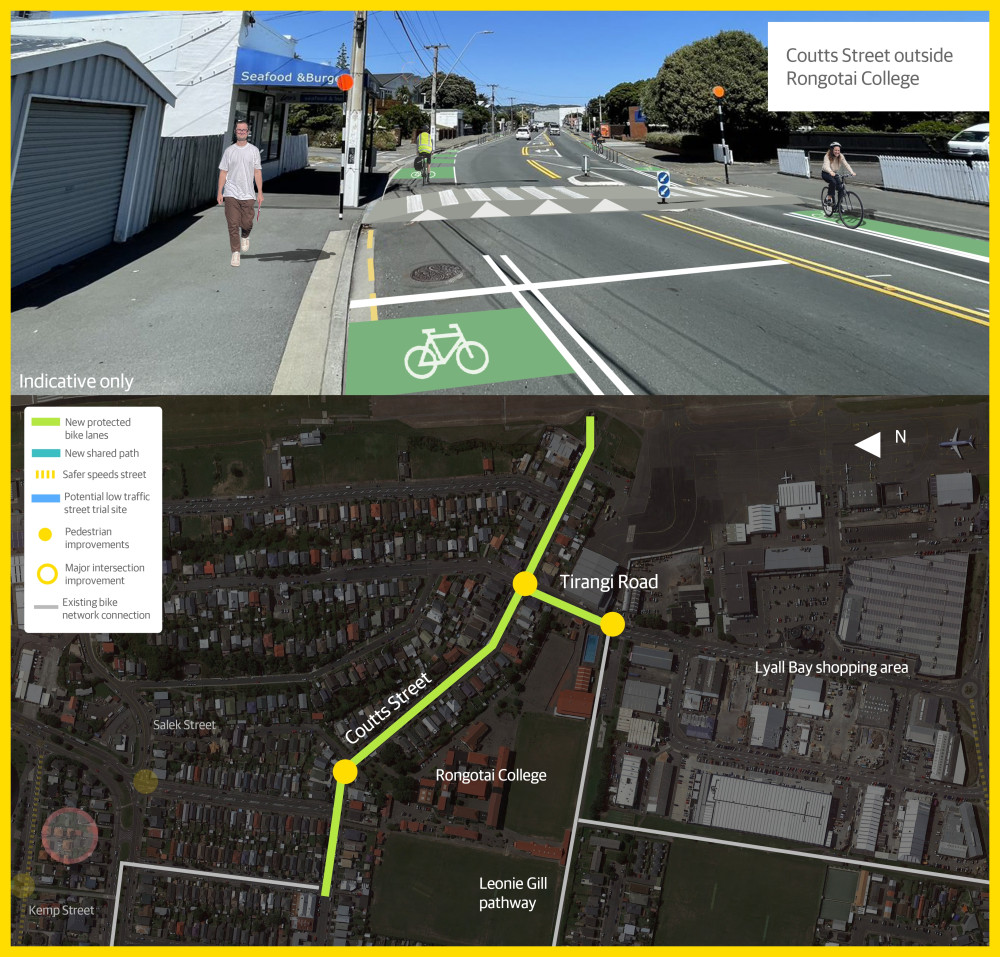 Improvements in this location will improve the connections between Kilbirnie and Miramar via the airport underpass, Leonie Gill pathway, and to Rongotai College.
The volumes of traffic, including heavy vehicles, and feedback from people who use this route to schools and other destinations showed improvements are needed to make this connection safer for everyone.
Different approaches are planned on Coutts Street east and west of the roundabout. The roundabout has a history of crashes involving people on bikes and people told us they don't find it safe enough, so a number of changes have been made to address this.
Coutts Street
New street layout with separated bike lanes on both sides of Coutts Street from Te Whiti Street to the Tirangi Road roundabout

New street layout on the quieter end of Coutts Street from the Tirangi Road roundabout to the airport underpass with painted bike lanes with a 0.8m buffer

New raised bike and pedestrian crossings on Tirangi Road at the Leonie Gill pathway and at the entrance to the Coutts Street roundabout

Raise the existing pedestrian crossing on Coutts Street near Mamari Street

New raised crossing at the Coutts Street entrance to Te Whiti Street

Changes to vehicle movements at the entrance to Te Whiti Street allowing left turns in and out only (emergency vehicles and people on bikes will still be able to make right turns in).
Tirangi Road
Key parking changes
Reduced number of on-street car parks and changes to some restrictions on Coutts Street
On-street parking removed on both sides of Tirangi Road between the Leonie Gill pathway and the Coutts Street roundabout (about 15 spaces removed). Parking unaffected south of the planned new bike and walking crossing at the Leonie Gill pathway.
Change two unrestricted car parks to P10 on Mamari Street for use by shop customers (Leo's Burgers and Seafood).