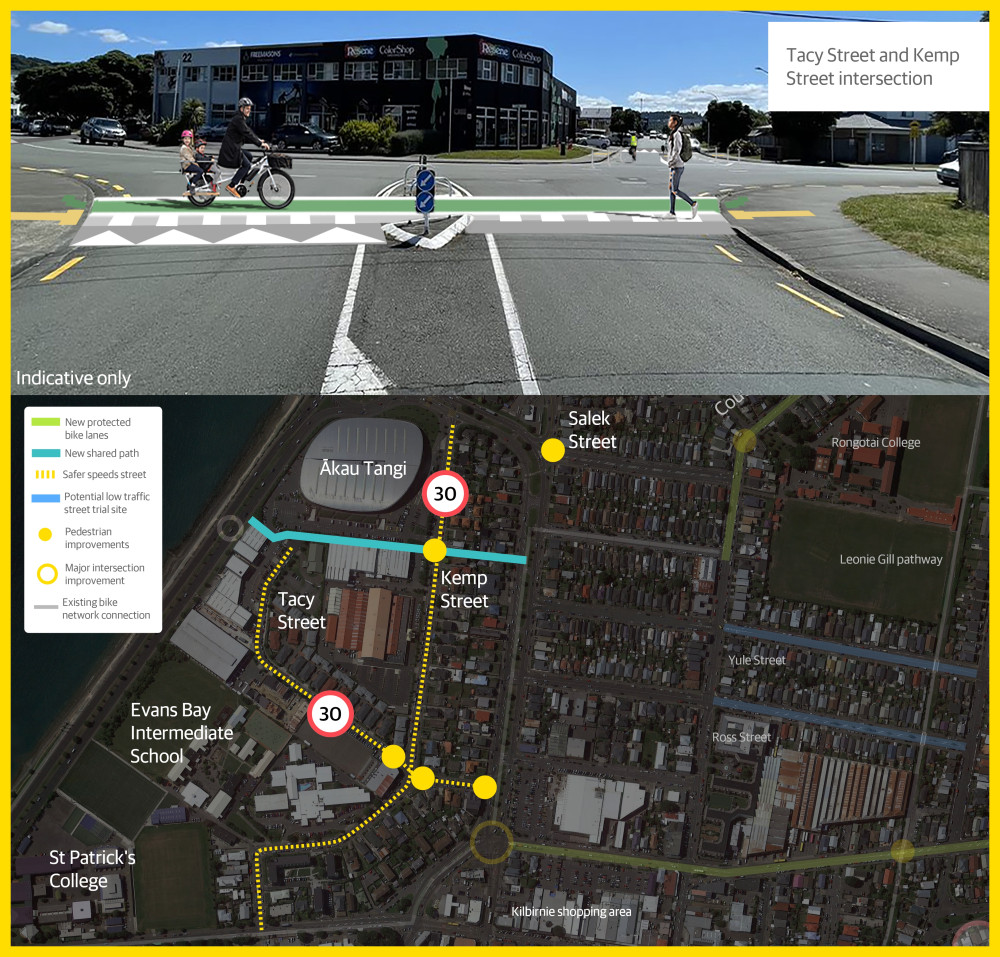 Improvements planned in this area will help people more safely walk and ride between the Cobham Drive crossing and other parts of Kilbirnie, Lyall Bay and Rongotai. It will make it safer and easier to get to popular destinations like Kilbirnie Park, Ākau Tangi Sports Centre and local schools.
Cobham Drive to Rongotai Road shared path
New section of footpath at the end of Tacy Street near the Cobham Drive crossing

New shared path alongside Ākau Tangi Sports Centre car park connecting the new Cobham Drive crossing and Kemp Street

New raised crossing on Kemp Street near Ākau Tangi linking with the existing and new paths on either side

Improving the off-road shared path that links Kemp Street and Rongotai Road and widening it to 3m.
Tacy Street
New 30km/h safer speed zone on Tacy Street and other street changes to encourage safer speeds, making it safer for everyone and providing an alternative route to the Cobham Drive crossing for more confident riders

New bike racks for 10 bikes on Tacy Street near the netball courts

A new painted buffer behind the angle parking by the courts
Kemp Street
New 30km/h safer speed zone on Kemp Street, and new speed hump on the west (Evans Bay Intermediate) side of Tacy Street

New raised pedestrian and bike crossing at the entrance to Tacy Street (south side of the Kemp Street intersection) plus two new speed humps (north of the Kemp Street intersection and near no. 36)
Salek Street
Key parking changes
There are a few changes to install no-stopping restrictions near planned crossings and install bike parking, with about five car parks removed overall.