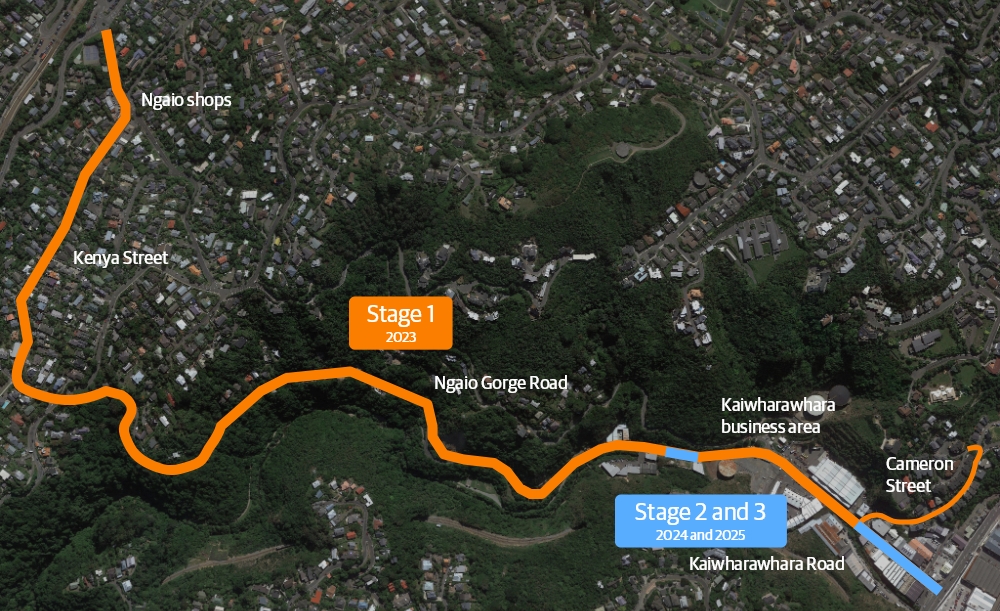 Through engagement with Kaiwharawhara businesses, we're keen to help them adapt to the proposed improvements and consider how off-street parking space can be used, while still providing more safe transport options in the short term. This means we're looking at making changes in stages from 2023-2025.
Stage 1  - June
2023
In stage one, we would install most of the proposed uphill bike lanes, greatly increasing safe separation for people on bikes and making it easier for drivers. Work to improve sight lines will make it safer for people driving and those riding bikes.
Reducing speeds and installing raised pedestrian crossings will help to make things safer for people walking, getting to and from bus stops and riding bikes, and provide better transport options for people living in the area. 
In two sections on the southern side of Kaiwharawhara Road, a clearway will operate from 4pm-7pm so people commuting from work by bike will have a safer ride along this stretch during these busier times. People will be able to park in these two areas at all other times. We are also proposing a new 30m loading zone outside Capital Auto Electrics Ltd and Hanging Around, and four P30 car parks along the remainder of the southern side of Kaiwharawhara Road. This loading zone will be in place for the first two stages of the project, while the businesses adapt and adjust to changes in the area over time. 
The other proposed changes in this stage would include: 
painted sharrow road markings on the downhill lane of Ngaio Gorge Road, Kenya Street, Crofton Road and Cameron Street

raised pedestrian crossing at the corner of Kenya Street to replace the existing crossing

 

new raised pedestrian crossing at 5 Ngaio Gorge Road

 

removing one P30 carpark outside 2 Kenya Street and installing one P10 carpark outside 6 Kenya Street for customers at the takeaway shop

removing 59 carparks along Kenya Street

extending the 30km/h zone from 11 Ottowa Road through the roundabout to Crofton Road outside the fish and chip shop

change

from 50km/h to 30km/h for safer speeds on Cameron Street

removing 16 unrestricted car parks on Crofton Road

 

removing one unrestricted car park at the bottom of Old Porirua Road

 

changing 50 unrestricted car parks on Cameron Street to four P60s, seven P120s, and 39 P24-hour spaces except residents. 

 
Stage 2,
2024
The clearways outside businesses on the southern side of Kaiwharawhara Road will be extended to 2pm-9pm to provide a separated bike lane for longer in the evening.  
Stage 3
 , 2025
In this stage, work to install the full-time uphill separated bike route from Hutt Road to Ngaio will be completed.
This would include:
removing clearways and install the full-time bike lanes

removing three P30 car parks and 45 unrestricted car parks on the southern side of Kaiwharawhara Road

removing the 30m loading zone outside Capital Auto Electrics Ltd and Hanging Around

removing three P30 car parks at 24-28 Kaiwharawhara Road to create a safer place for people to cross.
The downhill lane will remain as a 7am-9am clearway for the shared bike/bus lane.