Proposed changes for Aitken Street and south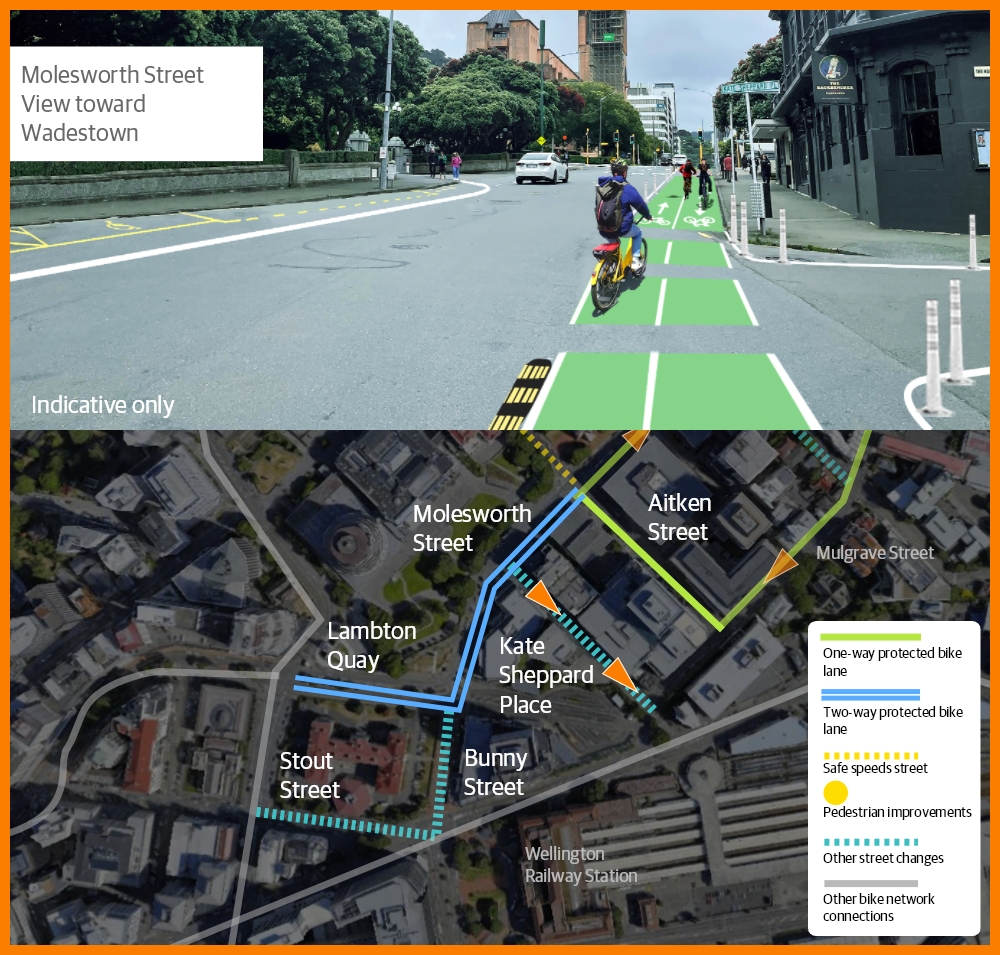 Changes in this area include improvements for people walking, biking, and taking the bus along lower Molesworth Street, Kate Sheppard Place, Lambton Quay, Stout Street and Bunny Street.
The improvements we are proposing in this area include:
New section of two-way bike lane on Molesworth Street between Lambton Quay and Aitken Street

This provides greater connection to Lambton Quay and The Terrace, avoiding major intersections, and connecting to the two-way bike lane planned for Lambton Quay through Let's Get Wellington Moving's Golden Mile project.

New separated one-way bike lane on Aitken Street for those travelling from Mulgrave to Molesworth Street to connect to the section of two-way bike lane on Molesworth Street
Kate Sheppard Place is proposed as a one-way street only from Molesworth Street to Mulgrave Street due to significant safety concerns raised in the safety audit.

The safety audit identified that people in vehicles exiting Kate Sheppard Place onto Molesworth Street would be looking downhill for a gap in traffic and would likely be unaware of people travelling downhill on bikes in the opposite direction, creating a high risk of collision.

Relocating school bus stop 5500 from Lambton Quay onto Stout Street
Create a small section of shared path at the Bunny Street/Thorndon Quay intersection to allow people on bikes to bypass the intersection from Bunny Street into Thorndon Quay and avoid conflict with vehicles
Move bus stop from the north to the south side of Bunny Street with a reduction in hours.
Key changes to parking
Install one new P120 mobility car park outside Parliament on Molesworth Street
Remove parking on the right side of Molesworth Street
Change angled parking to parallel parking on Aitken Street
See parking changes for full details.