This is a primary route in the bike network plan, and connects to future planned routes to Karori and Thorndon, as well as planned work down Willis Street through Let's Get Wellington Moving. This will also then connect to the Brooklyn uphill bike lane.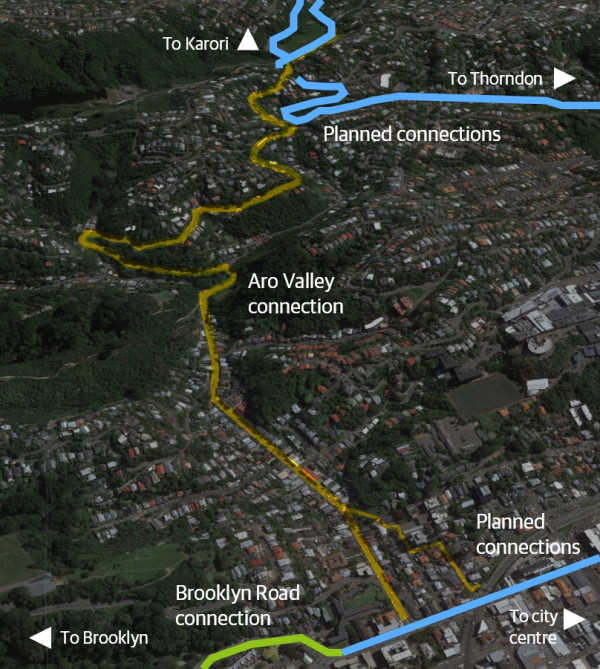 We worked with groups in the community and wider stakeholders to design the improvements along the route. We made changes in response to feedback from the community on the preliminary designs. For full plans, artist impressions, parking impacts and more, see the project details.
We took the proposed plans and community feedback through a traffic resolution consultation. In December 2022, Council approved the plans. Work to install the first stage of the route with adaptable materials is expected to begin in March 2023.
Once all the changes are in, we'll be working hard to gather feedback on how it's going and improve things such as signs, street markings, and the position of dividers between the bike lanes and traffic.
From June 2022, we began engaging with residents and businesses about planned improvements for people walking, riding or using buses along this route.
Following discussions with groups in the community and stakeholders, we included the following changes in our proposed designs:
Retaining all short stay parking in the shopping area
Changing one P20 car park to six bike parks in the shopping area
Changing one unrestricted car park to a mobility car park near shopping area
Providing car share parking as an alternative to private car ownership
Proposing a staged approach over two years to make it easier for people to adapt to change in parking availability
Reallocating parking - changing coupon car parks to residents' car parks, and changing unrestricted side street parking to residents' parking
Relocating bus stops to make it easier for people to get on and off buses, and moving one to avoid blocking entrance ramp to Waimapihi Reserve
Installing a new bus stop on Raroa Road
Removing one bus stop outside 47b Aro Street.
As part of our engagement, we've worked closely with groups in the community and stakeholders to make changes to the proposed design.
These groups included:
Argo Trust Residential Community Trust
Aro Valley Community Council
Bus Driver Union
Cycle Wellington
Disability Action groups

CCS Disability Action
Blind and Low Vision

Greater Wellington Regional Council
Let's Get Wellington Moving
Living Streets Aotearoa
Local businesses
Metlink
Waka Kotahi NZ Transport Agency