Wellington's eastern gateway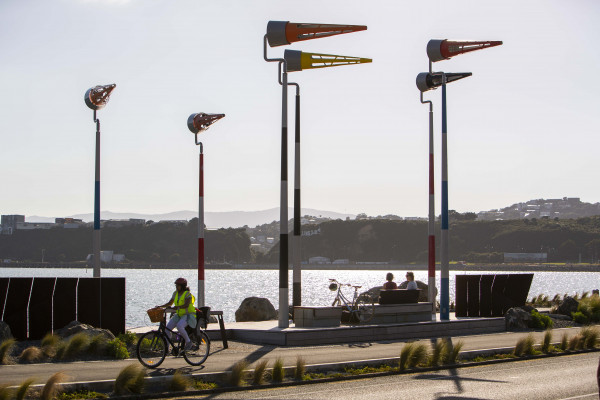 Safe crossing
Let's Get Wellington Moving has installed traffic lights and a walking and cycling crossing on Cobham Drive. The safe crossing connects the paths on the seaward side to Ākau Tangi Sports Centre and new paths in and around Kilbirnie.
Paths opened
The Cobham Drive walking and biking paths were officially opened on Monday 15 March 2021, with a blessing by Taranaki Whānui ki te Upoko o te Ika. The ribbon was cut by Deputy Mayor Sarah Free and MP for Ōhāriu Greg O'Connor representing the Minister of Transport.
Safer walking and biking route
The changes along the seaward side of Cobham Drive have transformed this coastal recreation area to be a safer walking and biking route and a more attractive gateway to Wellington from the east.
This is the main transport route to and from Wellington Airport and is often the first glimpse of the city and its harbour for visitors. It's also home to the Meridian Energy Wind Sculpture Walk.
The new paths make things safer and more enjoyable for everyone and help to encourage more climate-friendly ways to travel. Landscaping, planting, seats and bike parking provide places where people can enjoy the views.
As one of the city's busiest cycling commuter routes, and a popular visitor and recreational destination, the new paths form part of Tahitai and Te Aranui o Pōneke / the Great Harbour Way – our region's goal to one day have a walking and cycling path all the way around Wellington Harbour to Sinclair Head on the south coast.
Coastal protection
Coastal protection was a big part of this project and the work we've completed has strengthened the most vulnerable section of Cobham Drive from erosion and storm damage. It will make the area more resilient to sea-level rise and the extreme weather patterns we can expect with climate change.
The 430m of new rock revetment (a sloping bank of rock) has been engineered to spread the force of the sea and help to protect this coastline of reclaimed land, the new walking and biking paths, and the state highway. The nooks and crannies in the rock bank will also provide more secure and appealing places for kororā (little blue penguins) to nest and moult.