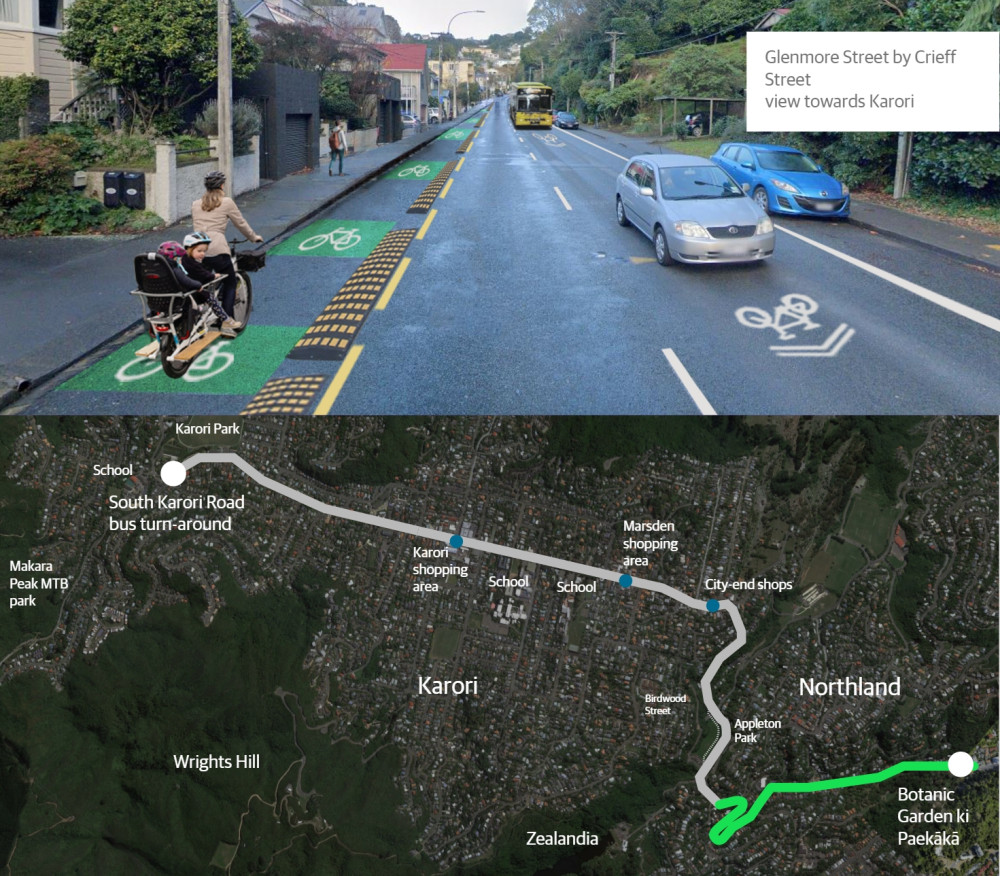 Bus, bike, and pedestrian improvements on Glenmore Street will make journeys between Karori and the city safer and easier for everyone. Between the Botanic Garden ki Paekākā and Karori Tunnel, we're proposing to:
install uphill separated bike lanes past the Botanic Garden ki Paekākā between parked cars and the footpath

widen and extend the shared path on the inside corner of the Kelburn viaduct roundabout, rejoining the road near the bus stop at the Karori tunnel

improve safety for pedestrians by raising crossings outside the Botanic Garden ki Paekākā, near Orangi Kaupapa Road, and at the city end of the Karori Tunnel

remove the Garden Road intersection bus stop as it's very near another bus stop

make the uphill bus stops at Botanic Garden ki Paekākā and Orangi Kaupapa Road into in-lane bus stops

reduce congestion at the traffic lights by converting the bus stop opposite St Mary Street to a kerb-side bus stop

increase the length of bus stops to 20 metres
Parking impacts
On Glenmore Street the proposal is to remove 241 out of 315 coupons car parks. Three unrestricted car parks will be removed, and seven resident car parks will be added leaving 74 coupon car parks, and 21 resident car parks.
Approximately 65% of properties on this street have off street parking. Residents will be able to use coupon and residents parks, but may need to park further away.
There will be no change to the current mobility parking, coach parking, or time limited parking spaces near the Kelburn viaduct.
These changes mean there will be a reduction in short stay parking on Glenmore Street which may require visitors to the Botanic Garden ki Paekākā to find off-street parking elsewhere, use one of five nearby paid car parking areas, or use public or active transport to get to the gardens.
See parking details for more information about parking impacts on this route.