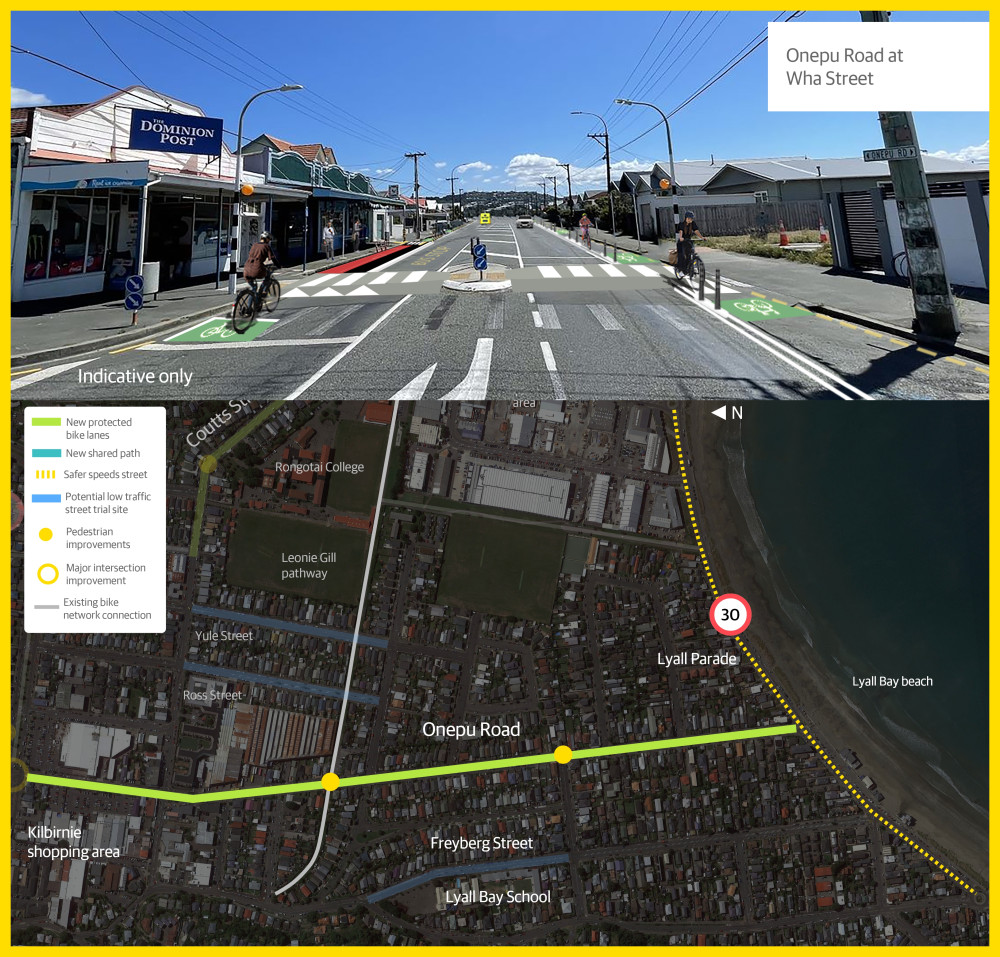 Improvements on this route will allow people to safely bike to the beach, cafes, shops and other destinations in the area and further afield. They will connect with existing safe routes and other improvements planned.
Onepu Road
Safer bike route from Rongotai Road to Lyall Parade with separated bike lanes on both sides of Onepu Road except for a 100m shared bike and bus lane southbound near the bus barns and the section south of Wha Street

The section south of Wha Street to Lyall Parade will have painted bike lanes on both sides of the road (this is an alteration to the proposal made in response to community feedback and means about 50 car parks will be retained on this section)

Changes to be integrated with a major upgrade of the intersection of Rongotai and Onepu roads, which is due to start later this year

Left turn only out of Pak'n'Save on to Onepu Road. People wanting to head right will use Mahora Street instead

Changes at Countdown – southern driveway in only and northern driveway out only

New 6-second priority light at the intersection of Onepu Road and Coutts Street so people on bikes can travel safely through ahead of buses and other traffic

Changes to footpath area outside Rita Angus to remove parked cars and separate into pedestrian and biking spaces.

Raise and improve the pedestrian crossing on Onepu Road near Wha Street

New raised pedestrian and bike crossing on Onepu Road at the Leonie Gill pathway
Bus stop changes on Onepu Road
These changes will allow for new bike lanes and help make bus journeys slightly quicker:
Bus

stop

6

3

27

will remain in its original location near the intersection with Coutts Street (in response to community feedback the proposal to move it slightly

north

to outside the Salvation Army

Family S

tore

is not going ahead)

Install

a new raised platform at bus

stop

7327

outside

Harbour City

Funeral

Home. Buses will stop in the traffic lane.

Remov

e

two southbound

stops:

Bus stop

6329

(

near

Resolution Street

)

Bus stop

6331

(near

the south end of

Apu Crescent

)

Mov

e

northbound bus

stop

7328

to

just

north

of Endeavour Street

,

and

southbound bus

stop

6328

slightly south

to improve

visibility

and

spac

e

between stops

Move

stop

7330

(

Onepu

/Wha Street shops

)

slightly south and install a new

platform

.

Buses will stop in the traffic lane.
Lyall Parade
Cruickshank Street
Changes to how vehicles enter and exit Cruickshank Street will make the intersection with Onepu Road safer

Cruickshank Street will remain two-way but be more like a cul-de-sac. Drivers will have to enter from Queens Drive, and will only be able to turn left onto Onepu Road.
Key parking changes